We are the dead. Short days ago
We lived, felt dawn, saw sunset glow,
Loved and were loved, and now we lie,
In Flanders fields.

In Flanders Fields,
Lt.-Col. John McCrae
One hundred years ago, in November, 1922, on the Holton Street lawn of St. Giles Church, a First World War Memorial cairn was unveiled by Mary Russeu Bews, mother of the late Acting Bombardier Russell Bews. Her son Russell was just 19 when he died in action.
The War Memorial Cairn on the Holton lawn was a gift* of individual members of the St. Giles congregation — a gift to honour the members of the congregation who'd died in World War 1: Russell, Alex, James, Tom, Alexander, William, George, Clifford, Walter.
It's easy to imagine the scene of the cairn's unveiling: a cold November day, raining perhaps, as the bereaved sought comfort in commemoration and community, for the loss of friends, family, and neighbours.
In 2018, the St. Giles War Memorial was identified as a heritage attribute worthy of protection under the Ontario Heritage Act.
The Friends of St. Giles are saddened to report that, while the building has been left abandoned, the War Memorial outside the church has been vandalized — but it's not too late to act, if you'd like to see the War Memorial preserved and protected.
St. Giles & WW1
Completed in 1913, less than a year before the outbreak of the First World War, Hamilton's St. Giles has deep connections to the Great War and remembrance.
St. Giles' first pastor and one of the architects served together in World War 1. Capt. (Rev.) James Burnside Paulin and architect Lt.-Col. Walter Wilson Stewart were both in Hamilton's 86th Battalion.
Twenty-five congregation members fought in the war. On the War Memorial that stands outside the church, the names of nine war dead were inscribed, including that of Lt.-Col. Stewart, who died in action at Vimy Ridge on April 11, 1917.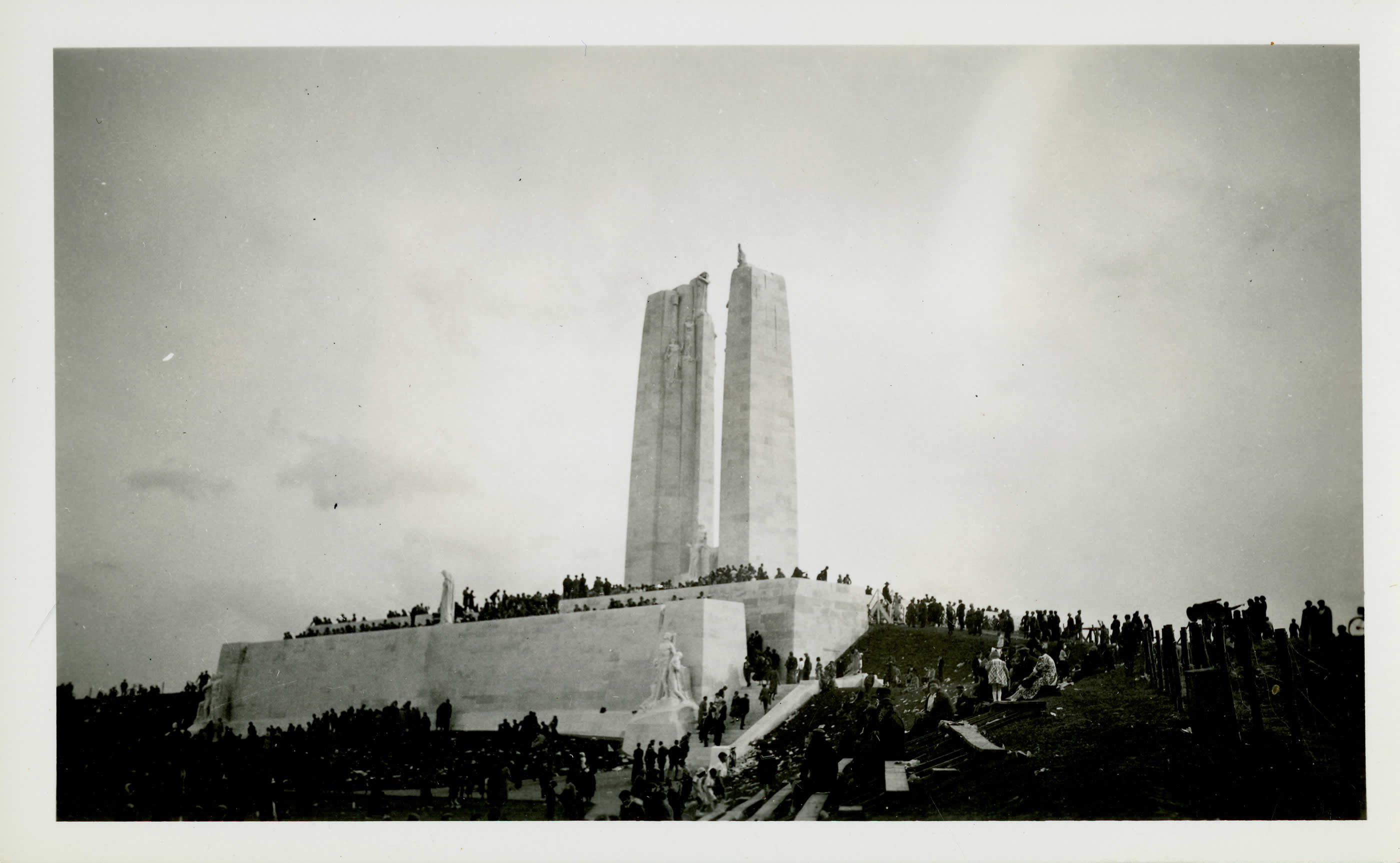 Reverend Jim Paulin:
War Chaplain and Advocate for Remembrance
War Chaplain James Burnside Paulin (1879–1969) was the founding minister of St. Giles Presbyterian, Hamilton.
After attending the University of Toronto, Knox College, and U.F. College, Glasgow, he was ordained to the Hamilton Presbytery in 1908. Later that year, he became minister to the St. Giles congregation, preaching in their tent on Holton Avenue as they awaited construction of their new church.
After the outbreak of war in 1914, Rev. Paulin preached to departing Canadian troops.
The 91st's quota for the second Canadian contingent this morning attended divine service at St. Giles' Church, where they were addressed by Rev. J.B. Paulin.

The Globe, Nov. 2, 1914
In 1916, Rev. Paulin — now a Captain — left St. Giles Presbyterian to go overseas as chaplain of the Hamilton regiment. He later became senior chaplain of the Canadian brigade. In April, 1917, he addressed Canadian forces before the Battle of Vimy Ridge.
Paulin as War Hero
Seriously wounded, and now a war hero, Rev. Paulin was requested by a Presbyterian congregation in Toronto. (He returned to that church after its members voted against the 1925 Union that produced the United Church of Canada.) The Presbyterian minister whose oratory had "put iron into the blood" of Canadian troops became a noted advocate for remembrance of the Great War.
PAULIN FOR ROSEDLE. Presbyterians to Choose Soldier Who "Put Iron Into Blood of Canadians"

Capt. (Rev.) J. B. Paulin, late rector of St. Giles' Presbyterian Church, Hamilton, and a returned chaplain, will, in all probability, be chosen as pastor of Rosedale Presbyterian Church, at a meeting of the congregation to be held tomorrow evening. He will succeed the Rev. Daniel Strachan, who resigned some months ago.

Capt. Paulin went overseas as chaplain of a Hamilton battalion and later succeeded Maj. (Rev.) C. W. Gordon, (Ralph Connor), as senior chaplain of the Canadian Brigade. He was badly wounded last April and returned home a few months ago.

Capt. Paulin endeared himself to the church members by the address which he delivered to the Canadian troops just before they went into the Vimy Ridge battle, by which he "put iron into their blood."

Toronto Daily Star, Jan. 22, 1918, front page
For St. Giles' 65th anniversary, Dr. Paulin's widow donated $5,000 to the church in memory of her husband's many happy years with the congregation.
Lieutenant-Colonel Walter Stewart:
Architect and St. Giles Congregant
The plaque of St. Giles' War Memorial bears the name of architect Walter Wilson Stewart (1871–1917), who sacrificed his life for his country at the Battle of Vimy Ridge.
Although Stewart & Witton had worked on a major expansion of St. Andrew's Presbyterian on Barton (now Iglesia Pentecostal Hispaña), St. Giles Presbyterian was their only complete church commission to be built. When Rev. Paulin commissioned the design, Stewart was a congregation member who lived with his family in the Gibson neighbourhood.
Stewart was always a military man. He served for three years as a bugler with the 13th Royal Regiment and was one of the original officers of the 91st Canadian Highlanders (now known as the Argyll and Sutherland Highlanders). While overseas for officer training, he attended the coronation of King George V.
In 1915, Stewart was made commanding officer of the newly formed 86th Machine Gun Battalion (later called the Canadian Machine Gun Depot), the first machine gun unit in the British Empire. Following infantry training at Camp Niagara, the battalion was stationed at the James Street Armoury — a facility that had recently been renovated and expanded by Stewart & Witton.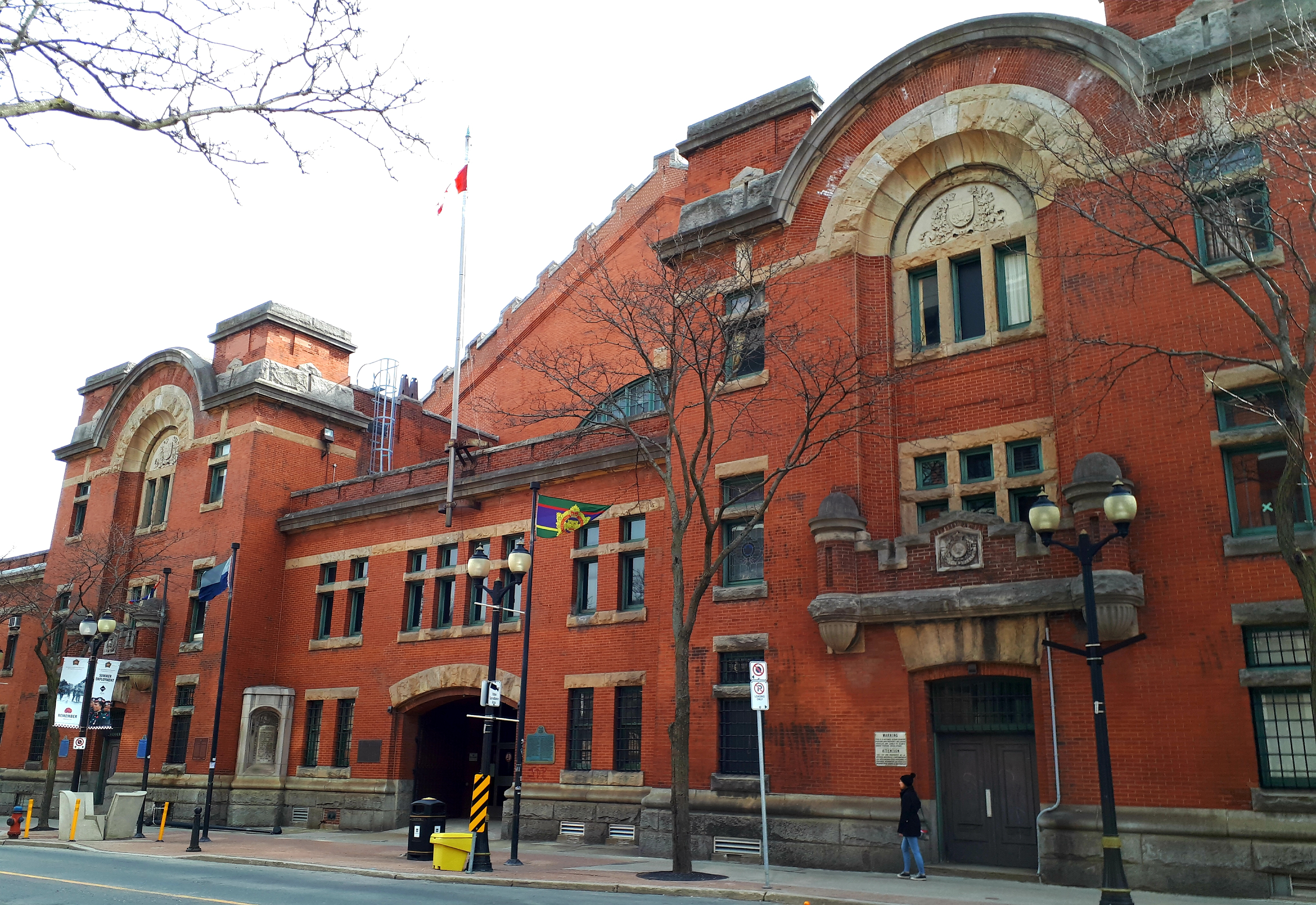 When Stewart left Canada for training in England, he was almost 45 years old.
Stewart was made the first commander of the Canadian Machine Gun Instructional Depot at Shorncliffe, but early in 1917 resigned his position to take a machine gun draft to France. After only a few weeks at the front, he was killed. The Hamilton Spectator grieved, 'one of the best-known officers and residents of Hamilton has been removed from a life of usefulness and activity and his demise will be mourned by an unusually large circle of professional and social friends.

Colin Crozier, DHB II, 156
According to his Globe obituary, Stewart & Witton was "recognized as one of the city's leading firms of architects."
Lt.-Col. W.W. Stewart of Hamilton Killed. Was at Front for Observation — Is Sincerely Regretted — A Prominent Architect

Hamilton, April 19 — Word reached this city to-day that Lieut-Col. Walter W. Stewart, who left in command of the 86th Machine Gun Battalion, had been killed in action. It was announced a couple of weeks ago that Col. Stewart had gone to France for observation purposes, and the news of his death was doubly shocking, as it was not known locally that he was on the firing line. No more popular or efficient officer or finer gentleman than Col. Walter Stewart left Hamilton, and the news of his death brought sincere sorrow to thousands in this city.

The Globe, Apr. 20, 1917, 2
Lt.-Col. Stewart left his widow, Margaret Fraser Stewart (née Johnson), and their four children — Helen Margaret, Dorothy Enid, Walter Fraser, and John Lamont — at the family's new home in Kirkendall. The late architect's professional effects passed to his partner, William Palmer Witton, while his collection of war medals was bequeathed to the 91st Canadian Highlanders.
St. Giles and Remembrance
The Colours of the Regiment were formally returned from Westminster Abbey to St. Giles in November, 1919, following a memorial address by Rev. Paulin. The Colours hung in the sanctuary for many years.
Inside St. Giles, in the narthex, a bronze memorial tablet was dedicated by the men of the 86th Battalion.
St. Giles World War 1 dead:
Russell Bews (1897–1916)
James Pearson Love (1878–1917)
W. Alexander "Alex" Carrington (c. 1900–1918)
Thomas C. Martin (c. 1900–1918)
Alexander MacFarlane (c. 1890–1915)
William T. Sawle (c. 1890–1918)
Walter Wilson Stewart (1871–1917)
George A. Sweet (c. 1900–1918)
Clifford Taylor Woolley (1894–1916)
Sources: Marika I. Pirie, Graham Carroll, Biographical Dictionary of Architects in Canada, 1800–1950, Construction: A Journal for the Architectural, Engineering, and Contracting Interests of Canada, Dictionary of Hamilton Biography, National Memorial Album of Canadian Heroes (1919), St. Giles 100th Anniversary Book of Memories, The Globe, Toronto Daily Star.
* According to the church annual statement for 1921, the cairn cost $563.62 ($7,445 in today's dollars).
Stewart & Witton 150 logo copyright © 2021 The Friends of St. Giles. All rights reserved.